From humble structures to over-the-top architectural marvels the Dog House has become an extension of our own sense of style.
These days you can have a dog house that matches your own home or one that fulfills your wildest fantasies.
If you add in the fact that millions of people across the global view their dogs as furry family members worthy of every available luxury, the possibilities are endless.
Private dog pools, Pup Bars and a firehouse are all a part of the new dog house craze. Join us as we look at some fun and fabulous dog house ideas. Maybe you will be inspired to create your own canine creation.
Anyone up for a Pup Bar Crawl?
This eclectic Dog House created by Danielle Jacques Designs LLC is actually located inside the owner's Phoenix home.
The BarK Puplick House, is a play on words for 'Public House. This fun 'Gastropup' fuses industrial decor with town & country charm. The industrial lighting and steel casement window captures the essence of a bar in the city while shutters, traditional millwork and a small garden express the countryside's beauty. At a cost of less than $1,000 this dog house was custom built with timeless materials and craftsmanship.

The Fire House Dog House
Does your pup dream of growing up to be a firehouse mascot? Then maybe you can build them their very own dog sized firehouse. The above fire house was custom built by Graf Development to be auctioned off as a fundraiser of the SPCA in Dallas.
The picture on the left is the actual firehouse in Dallas that was used as a model for the dog house. The builder added LED lighting inside and out to make it more realistic. At only 4′ long, 23″ wide, and 24″ tall, it was designed with smaller dogs in mind. The two doors in front pivot at the top for dogs to enter.
Check out Gone to the Dogs – Dog Friendly Home Designs for more dog friendly home design ideas and insipration.
The Ruffterhouse Dog House
The Ruffterhouse Dog House was designed and built for the 2017 Annual Design for Dogs competition, which benefits the Arizona Animal Welfare League. This dog sized custom farmhouse, which was created by Rafterhouse Custom Home Builder, won 'Best in Show'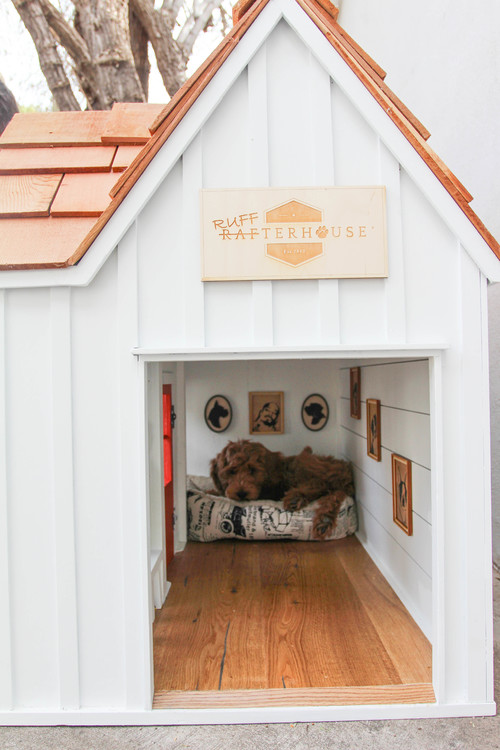 The quaint miniature farmhouse with white picket fence, contrasting black shutters, a red door and American flag is reminiscent of farmhouses across the Midwest. The farmhouse comes complete with an AstroTurf front yard and a larger side door for their human companions to visit.
Inside there are dog friendly wood floors, space for a cozy dog bed and a place to store Fido's toys. Hooks provide the perfect place to hang your dog's coat or a leash. Every detail was thought of including framed dog prints.

Mid Century Modern Dog House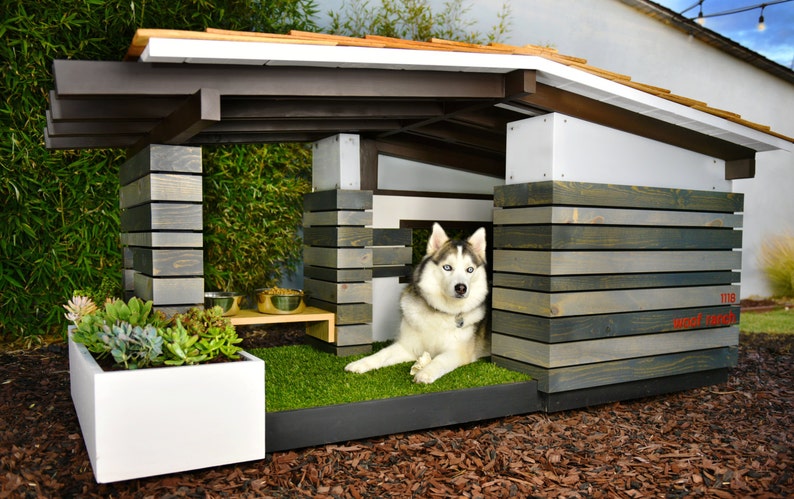 Wishing you could have your very own custom dog house but don't want to build it yourself? This Mid Century Modern Dog House which was designed and custom built by PDWorkshop in Los Angeles could be yours for just $3,500.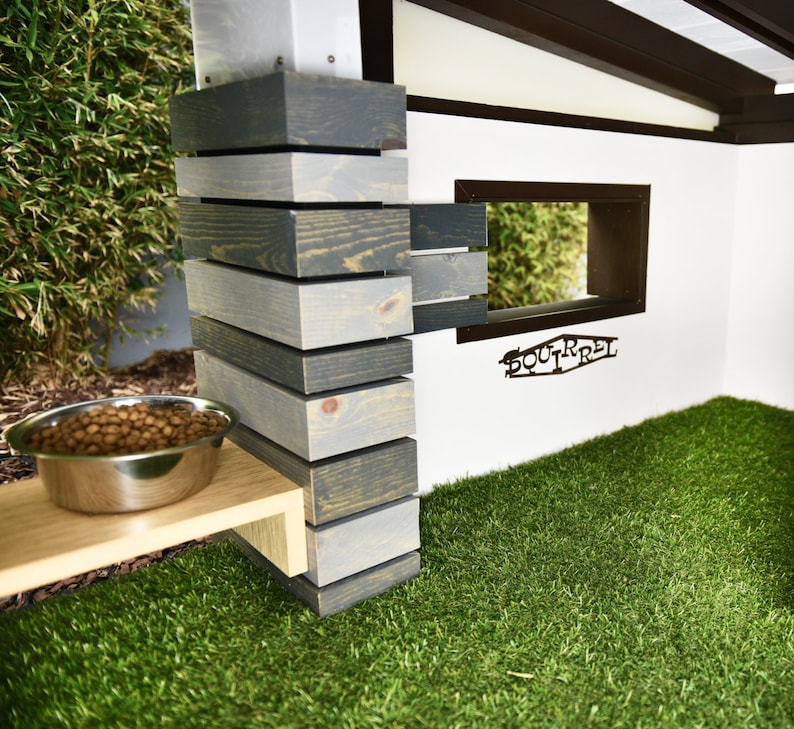 The dog ranch is approximately 44″ wide and 72″ long. The low pitched roof with long eaves allows for a shaded interior while providing passive ventilation for your pup. The roof is comprised of expressed beams and eaves topped with cedar shingles from end to end. The artificial turf extends inside the house to create a cozy retreat for your dog to cuddle up on cooler days or to get out of the sun. Inside the open house is a window for your pup to see what is going on outside.

The Hound Hacinena
Our next house was designed and built by VII Custom Homes for the 2011 Barkitechture in Austin TX.
Named the Hound Hacinena, this midcentury modern dog house takes its inspiration from the pages of Frank Lloyd Wright. From the slanted roof line and the front porch complete with a midcentury modern lantern, to the plantings on the side of this home is worthy of any pampered pooch.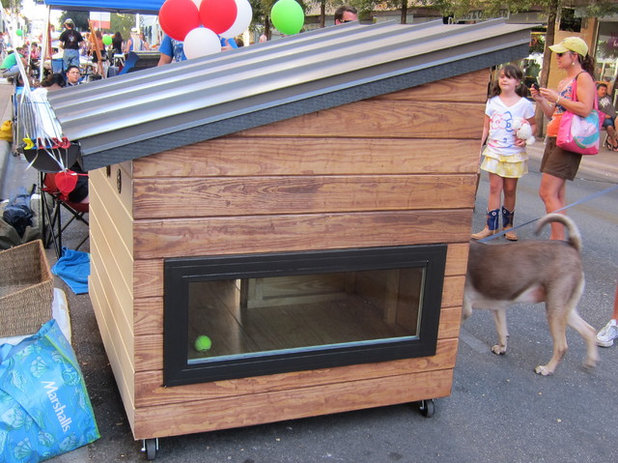 The well thought out sloped metal roof promotes water drainage while the gutter neatly collects water and drains it down the side using a rain chain. There is even a large window on the side of the house for peering out into the world.

Looking for some more dog inspired home design ideas? Check out these posts: