Today, dogs are an important part of many people's lives.
It's estimated that 48 million households in the U.S. has at least one dog.
So, it is no surprise that dog parents want to incorporate their dogs into everything they do.
This includes their home design.
With the holidays just around the corner it's only natural that dog parents want to represent their dogs in their holiday decor.
Join us as we look at some fun and fabulous holiday decorating ideas for dog lovers.
Modern Christmas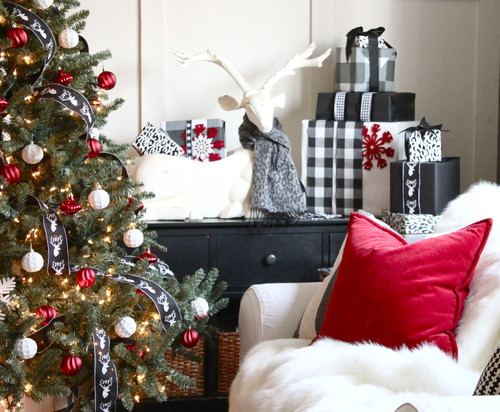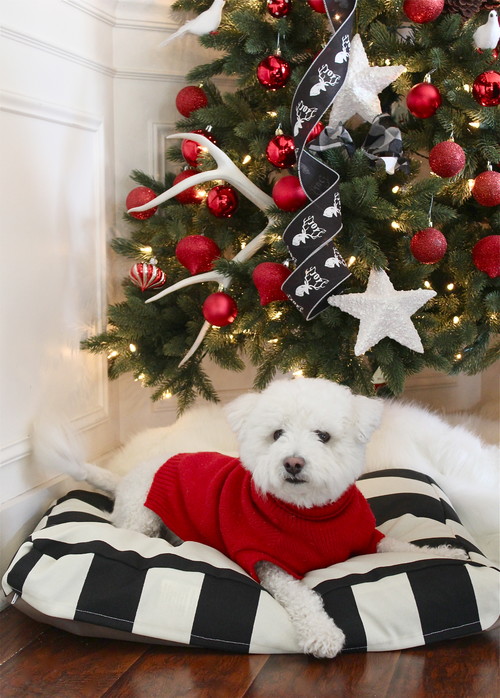 Our first look at holiday decor ideas for dog lovers comes from Sarah Macklem at The Yellow Cape Cod. Sarah is the creator of this inviting christmas scene (top and right pictures). To create the look she used the home's black and white modern elements as a backdrop to design a fresh and inviting holiday room. In the top picture you can see the home's christmas tree, black hutch and white chair. By adding touches of red she adds a feeling of warmth to the room. The red pillow and white furry throw begs you to sit for awhile.
In the picture above we see that the family's dog gets in on the design. He is relaxing on his black and white stripped dog bed while wearing a bright red sweater. He fits in perfectly with the black, white and red theme.
Simple Holiday Decor
Our next two holiday decor ideas for dog lovers are wonderful examples that less can be more. The concept of decorating with less is particularly important when you have dogs in the home. Too often holiday decorations can be a invitation to get into trouble for a bored pup.
When I saw these two perfectly coordinated Christmas scenes on Houzz.com, I thought they were from an expensive custom design project.
But as it turns out they were part of the Modern Farmhouse Holiday Collection from Target.com. Which means you too could of have these beautiful designed holiday rooms in our homes.
Well at least the decorations. Unfortunately the stockings and dog bed in both pictures appear to be from a previous year's collections and are no longer available. I can't wait to see what they offer this year.
Christmas in England
Our next two Christmas designs come from across the pond. Susie Watson from Susie Watson Designs in Wiltshire, England not only designs beautiful rooms but also many of the textiles used in them. The soft rosy palette and whimsical design gets their clues from the English countryside.
Look closely at the above picture. Do you see the playful dogs on the Christmas sack? Or on the Chirstmas socking hanging by the fire? These home-made textiles add a touch of whimsy to the room.
The soft color palette is carried over into the bedroom. Here hand-embroidered Christmas textiles are used to make it extra special for visiting family and friends. We don't want to forget our dog friends. A personalized raised dog bed is waiting for them at the foot of the bed.
The Memory Christmas Tree
Christmas would not be Christmas without the Christmas tree. Filled with family memories this traditional family tree gives the dogs a place of honor.
A Home for All Seasons
This tastefully designed living room easily transforms for the holiday season. The large Christmas tree is framed by a bay window and a pair of classic wing chairs. The white tree skirt is the perfect place for the family's white pup. No need to worry about leaving dog hair behind. Bold touches of red on the tree, pillows and dog brighten up the neutral palette while keeping the rooms relaxed feel. The room has a warm ambiance that is timeless and classic all year round. By simply adding a few holiday touches the room is ready for Christmas.
Balsam Hill Christmas
Our next holiday decor idea for dog lovers is from Balsam Hill a leading seller of Christmas trees, wreaths and garlands. As you can see the simple theme of red and white continues in this holiday picture.
I hope you have found some holiday inspiration
All pictures shown are from Houzz.com. I am not an affiliate of Houzz.com
Related Posts You Might Like