Updated for 2021
Halloween isn't just for people, our canine companions want in on the fun too.
Or at least that is what their humans want. If you are a dog lover who wants to show off your dog in style this post is for you.
Join us as we take a look at some hilarious, over the top Halloween costumes available for dogs this year.
We updated this list for Halloween 2021 to include even more hilarious Halloween costumes for dogs.
Just remember that not all dogs will tolerate being dressed up for Halloween. I know mine won't.
Note: As an Amazon affiliate I earn from qualifying purchases. However, I do not have an affiliate agreement with Etsy.com
Halloween Costumes for Dogs
1. The Hula Girl Crochet Costume
Our first hilarious Halloween costume for dogs is the crocheted Hula Girl bikini set.
This set includes a crocheted grass skirt, pink bikini top and a crochet flower headband. As you can see from the picture this Bulldog seems to be enjoying her time as a Hula girl. More information can be found on Amazon.com
2. The Spider Pup Costume
Our next choice creeps on over to the scary side of Halloween with an orange and black Spider costume for dogs. This costume includes a furry head piece with four googly eyes attached to the top and a body suit with 8 legs. To find out more go to Amazon.com
3. The Guitar Player Dog Costume
This rocking guitar playing dog costume would fit in perfectly with a band theme for the entire family.
Our little bulldog friend here looks ready to rock the night away with his wild hair and perfectly sized guitar. The cotton material will help your dog to stay cool as he is jamming away on stage. For more information go to Amazon.com
4. The Cowboy Rider with Saddle Dog Costume
Saddle up your favorite pup and head to the nearest rodeo. This hilarious cowboy, dog riding costume will have everyone laughing the moment they see it. This costume comes all in one piece. It sits on your dog's back with a Velcro closure in front. To find out more go to Amazon.com
5. Harry Pawter Dog Costume
This custom made Harry Potter inspired dog costume is offered by Henry & Co. on Amazon.com "The Henry Pawter" Pet costume features a black cape, with a shirt and tie collar available in various prep house school colors to match the school of your choice.
6. Star Wars Ewok Pet Costume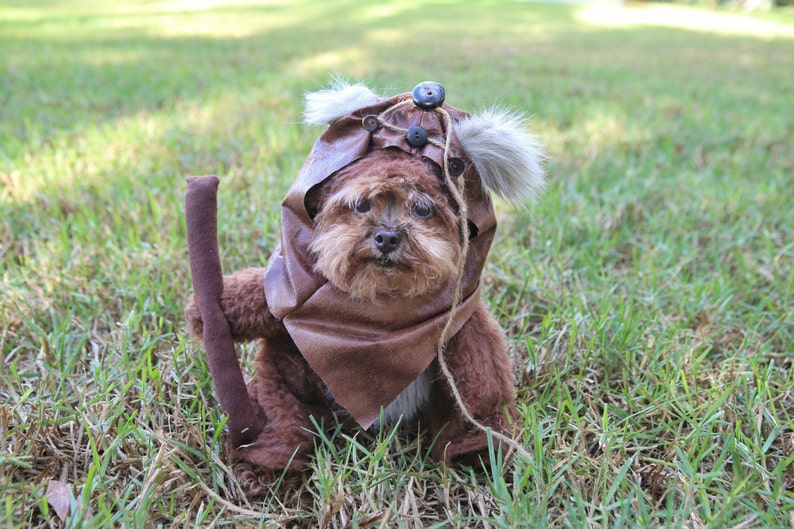 Star War Fans might look at this costume and think Ewok. This adorable costume is the creation of Sew Dog Gone Creative. It is sold through Etsy.com
7. Red Riding Hood and The Big Bad Wolf Disguised as Granny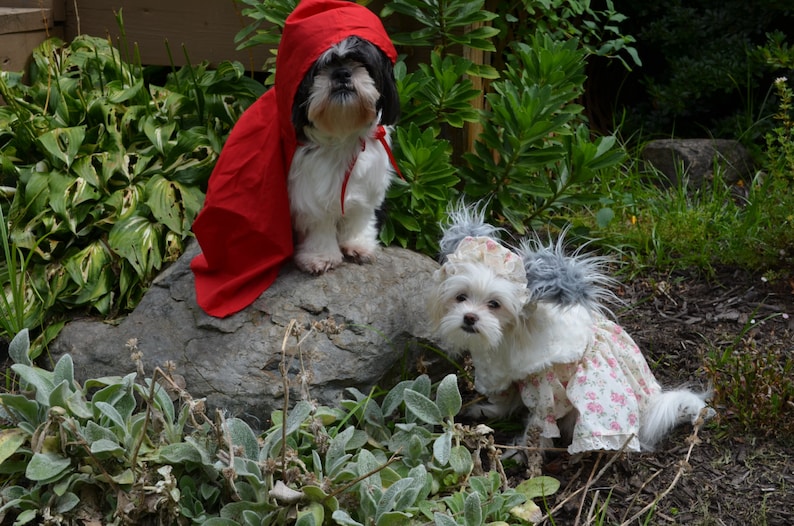 Do you have two dogs you need to dress up for Halloween? This comical creation will delight everyone who sees it. You can buy just one or both costumes from Sew Dog Gone Creative at Etsy.com
8. Gingerbread Man
Run, run, as fast as you can. You can't catch me. I'm the gingerbread man. Try catching your dog while he is wearing this holiday inspired Halloween costume for dogs. This costume can be found at Amazon.com
9. The Dog Golfer Halloween Costume
This next one has to be the ultimate dog golfer costume. This costume comes with everything needed for a day on the links. It even has a make believe golf club bag with silver cardboard golf clubs. This adorable costume can be found on Etsy.com
10. Gnome Dog Halloween Costume
Decorate your garden with your very own living garden gnome. Can you image sending your dog out in the yard wearing this costume? This costume can be found on Etsy.com
11. The Frenchman Halloween Dog Costume
This adorable Frenchman is sure to get a chuckle. Another creation from Sew Dog Gone Creative at Etsy.com
12. The Green Wicked Witch
Who's afraid of the green wicked witch? We are! Sure to be a hit at the neighborhood parade. This adorable costume can be found at Etsy.com by Fierce Pet Fashion.
13. UPS Pal Dog Costume
Instead of chasing the UPS Driver, your pup can be one in this comical costume. Offered by California Costume Collections this costume can be found on Amazon.com. They also sell a postal worker version of this costume.
14. Dragon costume
Turn any dog into a fierce dragon with Kari's Fancy Pups Dragon dog costume. You can order this costume in the three colors of the Games of Thrones Dragons; burgundy with black wings, hunter green with black wings, and beige with tan wings. Plus you can still get it in Grey with black wings (pictured here) or olive green with brown wings. The costumes body is made with Fleece while the wings and tail are made from faux suede. You can find more information on this costume at Amazon.com.
15. King Mutt
You knew your pup was the king of the house, now he can be the king of the Egypt with this King Tut inspired dog costume. Custom made by Down Under Dog Designs and sold on Etsy.com. This costume will be a winner at any party.
16. This Little Piggy Does No Want to Stay Home
Our Piggy is ready to go to the market to look for some treats. This cute and funny pig costume is from Bow Wow Pet Wear. Made from soft fleece this costume comes with cute little piggy ears and a curly tail. Let's us not forget the pink snout and eyes on the hood. You can find this costume in Amazon.com's handmade section.
17. Turn Your Pup into a Princess with the Rapunzel Dog Costume
The custom sized Rapunzel Dog Dress is the perfect Halloween costume for your four legged princess. Not the right princess? Maybe she would prefer to be Snow White, Belle or Sleeping Beauty. All of these princess costumes are available on Amazon.com in the homemade section. Just follow the links above to Amazon.com for more information.
Although I would love to try some of these amazing Halloween costumes for dogs, I know my pup won't wear them. Not every dog is comfortable wearing clothes and we respect that. But it is still fun to look at them. I hope you enjoyed browsing through them too.
Our Bella with her Halloween bandana.
Looking for More Halloween Costumes for Dogs
These are just a few of the funny, over the top Halloween costumes for dogs that can be found on the internet. If you have a costume you would like to showcase please add it to the comments below.
Happy Halloween!