Updated 06/30/2023 – More people than ever have chosen to share their life with a dog. It's not a surprise since sharing your life with a dog brings unconditional love and a sense of purpose.
But dogs have a few basic needs to be happy. One of them is to get outside for some fresh air.
Although going for a walk is a great way to fulfill these needs, it's not always possible. I
f you are lucky enough to have a fenced in yard, you can send your dog out for a romp.
But for apartment dwellers or really anyone that doesn't have a large yard, finding outdoor space for your pup can be a challenge. That's where we come in.
Below you will find dog patio ideas, and tips on how to create a dog friendly patio, porch, deck or small yard to share with your furry companion.
Dog Patio Ideas- Safety First
Let me start off by saying you should never leave your dog unattended on your patio or balcony for any length of time. Dogs that are left alone for extended periods can become bored. This boredom often translates into trouble. Dogs that are bored can become destructive or a nuisance if that bordum turns into constant barking. The last thing you want to do is become the unwanted tenant or neighbor.
Also an outdoor patio cannot be a substitute for daily exercise and interaction. Daily walks and mental exercises are a must to keep your dog happy and healthy.
Dog Patio Tips to Keep Them Safe
Whether you live on the first floor or 20 stories up, you need to determine if your outdoor area is safe for your dog. Of course there are different challenges depending on how far off the ground your patio or deck is.
We will go over some of the safety concerns you should look for, but it is not realistic to think that we could cover every possible safety issue. It's important that you use your own best judgement.
High-Rise Syndrome
Have you heard of High-Rise Syndrome? It's when a dog jumps over or through a railing on a high-rise building and falls. The resulting injuries include broken bones, spinal injuries and even death. The interesting thing about High-Rise Syndrome is that 75% of the dogs that were part of a small study actually jumped off the balcony. So it's important that if you plan to share your high-rise balcony with your dog that you make sure it's safe.
When determining if your outside space is safe for your pup check to see if the rail spacing is wide enough for your pup to go through. Not only do you want to look at the space between the railings, but also the space between the floor and the railing, and any gaps where the railing meets the building.
Another potential danger to watch out for is the height of the railing. Make sure the railing is high enough to keep your pup from jumping over it. I am often amazed at how high our little dog can jump.
I suggest you measure every opening, when determining if the railing is safe for your dog. Although it might seem like overkill, we once had a puppy slip through our deck railing because one piece was bowed slightly. It was just enough for her to squeeze her little body through. It was the only spot she could get through. We had measured some of the other widths but didn't check them all. And let me tell you it happened so fast. One minute we were playing with her on the deck the next we were chasing her around our unfenced yard.
As an Amazon Associate I earn a commission from qualifying purchases.
Create a Safety Barrier For Your Dog Patio
If you determine that the spacing is too wide or low add a barrier to keep your pup from slipping through. You can find rail safety netting like the one shown here on Amazon.com.
Another option one homeowner chose is to use vinyl lattice in front of the railings. You can see in the picture that they used zip ties to attach the lattice to the railing. If a trip to the home improvement store is not an option, you can find vinyl lattice panels on Amazon.com
If you don't want to block the view you can also use Plexiglas sheets to provide a barrier. Just drill holes into the sheets, and then use the holes to secure the Plexiglas to the railing with zip ties. This option is considerably more expensive than the others but may last longer. With any of these options remember to check periodically to make sure it is still safe.
If you feel there is a possibility that your dog may jump over the railing consider placing a barrier above the railing too.
Be Mindful of Furniture Placement
When placing furniture on your patio or balcony you need to be careful of where you place it. Furniture that is located near the railing could give your pup the boost they need to get over the barrier. You will notice in the photo here that the ottoman is right next to the glass railing, affectively cutting the height of the railing to almost half of its true height. By the way, this is a staged home, no animals live here.
Watch Out For Predators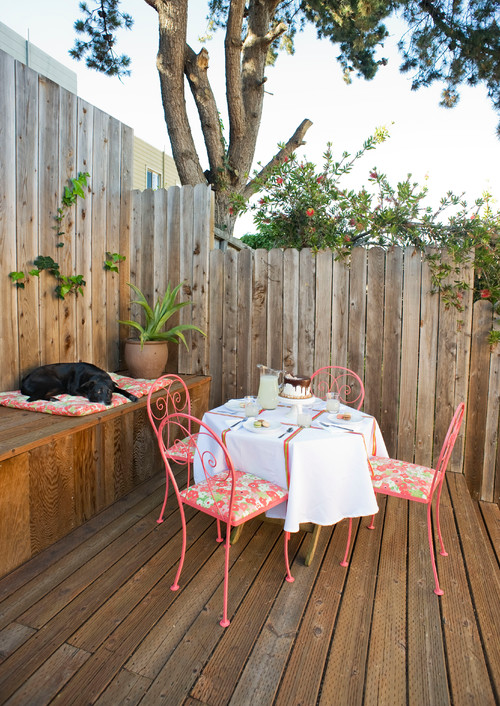 You need to be mindful of predators, both the animal and human kind. Know what types of predators can be found in your area. Although I live in a predominately suburban neighborhood we still get an occasional coyote that makes their way south using the power lines as a path into suburban areas. Also dognapping is becoming more common in some areas.
If you do leave your pup outside by themselves for any length of time make sure they are in a truly secure place. High, solid fences like the one in the photo to the here will help keep prying eyes out and your pup in.
Store Harmful Items Out of Your Dog's Reach
For many people their small patios, decks or yards need to serve multiple functions. In addition to a place to relax, people use their outside areas to grill and socialize with friends. But these activities can present dangers to your pup. Make sure to to store chemicals for gardening, fire starters and sharp objects like your grill utensils in a safe place that is out of reach of your pup. If you have a fire pit use a barrier to ensure your pup does not get burned. It's hard to see but the fire pit to the left has a glass surround.
Prepare for the Weather
When designing your dog patio you should think about the weather and also sun placement. If you live in a hot climate you will need a way to protect your pup from the heat and sun.
A retractable awning can work well to keep the sun at bay when needed but then close to let more light in when desired.
Another option is to get a raised cooling bed like the original elevated pet bed by Coolaroo shown here. The raised bed allows air to circulate around the dog keeping them cooler when the weather gets hot. You can find it at Amazon.com
Provide Plenty of Water
Dogs should always have access to clean drinking water. Make sure that you incorporate a water bowl into your patio design. If you want to spruce up the water bowl by placing it a pot or planter make sure it is safe. Decorative garden pots are generally not made for food consumption and could contain dangerous chemicals. Remember dogs tend to lick strange things. You don't want them licking the side of a painted planter that has lead or other harmful chemicals you are unaware of. Also choose a water bowl that is made to be outdoors.
YETI Boomer 8 Stainless Steel Dog Bowl
The sleek looking YETI Boomer 8 Dog Bowl is designed for the outdoors. The Boomer 8 can hold up to eight cups and is built with double-wall, non-insulated stainless steel making it incredibly durable, easy to clean, and resistant to rust and roughhousing. Plus it can be washed in the dishwasher. For smaller dogs the Boomer 4 holds 4 cups and is built with the same rugged design as the Boomer 8. You can find both at Amazon.com.
For colder weather
If it gets cold where you live limit the amount of time your pup spends outside. This is especially true if you live in a high-rise building. High-rise balconies can feel colder than the forecasted temperature due to the wind chills. If you have a dog with short fur, low body fat or was originally bred for a warmer climate you may want to get them a sweater to brave the cold.
Now that we have addressed many of the safety concerns you need to be aware of it's time to design a fun and comfortable place for you and your pup.
Dog Patio Ideas – Defining Space
How you design your space will have a lot to do with how much space you have and what you hope to accomplish with the space. For very small spaces you might only have enough room for a little green area and maybe a sitting area for the humans.
The photo below is of an executive condominium patio in Singapore. As you can see, the area is divided between a green space and a small area to have a cup of tea. To keep the sun at bay and to provide for some privacy they used roll down shades attached to the roof.
To decide what to do with your small space make a list of everything you would like to use your space for. Then prioritize your needs vs your wants. If you have a really small space you may need to give up on some of your wants.
For many people who are looking for a pet friendly outdoor space their needs tend to be a comfortable place to sit and an area for their pup to relieve themselves when you can't take them for a walk. We will look at some ideas below.
Dog Patio Ideas – Getting Comfy
A Place to Hang Out
Interested in more home ideas for your dog? Check out our newest post from Dogs at Home- Dog Room Ideas – The newest Trend in Dog Care
When deciding on a place to relax pick furniture that requires little maintenance and that is dog friendly. In the photo above the pup friendly hanging bed can accommodate both humans and dogs.
The dog friendly patio shown above uses Sunbrella outdoor cushion covers and pillows that can be left out. The covers are machine washable and water resistance making them very pet friendly.
Add An Outdoor Dog Bed
You may prefer not to share you comfy space with your dog. In that case get them a dog bed that is made for the outdoors. Just make sure you look for a dog bed that is waterproof, dries fast and is mildew resistant.
It's actually not that easy to find a dog bed with a cushion that is specifically made to be outside. But we did find the Raine Waterproof Outdoor Orthopedic Contour Dog Lounger from Animals Matter when we were looking for the best dog beds made in the USA.
Add Some Green
If possible try to carve out a little green space in your small patio or yard. Below the homeowners opted to carve out a small green area for the dogs next to the patio.
In the photo below homeowners opted to add some green space for their new puppy inside the screened in patio. This gives them a safe place for the puppy to the run around and go potty. The "grass" is low maintenance artificial turf.
A note on artificial grass: If you want to use artificial turf on your patio or balcony remember that it can get really hot. Just make sure it is installed correctly to avoid issues with mold.
Using Plants to Add Some Green
You can also use plants to give your space some green. In the photo below the balcony in Bordeaux, France uses artificial turf on the ground and a combination of small trees and plants to give the balcony the feel of being out in nature even though they are in a city. Pet friendly built-in furniture saves on space and provides storage for cushions and a table when not in use.
Watch Out For Harmful Plants
Adding lush greens to your space can provide a claiming affect to any patio but you should be careful with what you plant. Some common household plants can be toxic to dogs. Check out the Toxic and Non-Toxic Plant List – Dogs from the ASPCA.org for more information.
Comfort Station
For many people having a place for their dog to relieve themselves is a must for their patios or small yards. In the picture below the homeowners carved out a small covered space next to their patio. The dogs are trained to use their "special spot" when the weather is inclement. The use of artificial turf makes maintaining this area easy
Of course if you only have a small patio or deck you will need something that is also smaller and not permanent. The good news is there are many options to choose from. You can opt to have fresh grass deliver to your door in a box from Amazon.com or a local dealer. You could also choose a synthetic grass solution like the porch potty which is also available from Amazon.com.
To find more tips on how to set up a dog potty spot for your dog, check out our post on Dog Potty Area Guide: Tips and Ideas
Clean up area
Consider an outdoor dog wash station for your homer. It's a great way to keep you house clean while also making it easier to keep your dog clean.
In the photo below the homeowners added an outdoor shower with a shower hose that is long enough to clean off muddy paws before they enter the house.
The Bottom Line About Dog Patios
It's easy to create a dog friendly patio with just a few changes. Just remember to:
Never leave your dog outside by themselves if you live in a high-rise or an area that can present dangers to your dog.
Make sure the area is safe for your pup.
Add a place where everyone can relax.
Don't forget to give your dog access to fresh water.
Add a little green if you can.